For Consumer Packaged Goods marketers, the traditional view of online video has been that it's a digital format with narrow use cases. While this may have held some truth in the past, the emerging reality looks different: Online video is evolving into a full-fledged ecosystem of its own that provides advertisers with powerful opportunities to achieve a wide range of different outcomes. People are now shifting their attention among several types of content and exploring diverse creators, formats and platforms.
CONTENTS
To unlock this potential, it's key to understand how video behaviors have changed and what CPG marketers are doing to adapt and reimagine their video strategies—not just tweak them. The "why" is the same for CPG video advertisers, but the "how" has changed.
Four key shifts—a multiplicity of attention, the rise of relevance, content as commerce and multidimensional memories – are transforming the nature of video advertising.
Multiplicity of attention
In the past, video was largely a single stream, with television dominating attention. Today, viewing is defined by multiplicity: "According to an Ipsos study, 81% of video viewers surveyed globally say they still watch ad-supported TV weekly, 84% say they watch video on YouTube, 68% on Facebook and Instagram combined, 60% on Netflix, and 39% on Amazon Prime.
How viewers typically watch video, across different platforms, on a weekly basis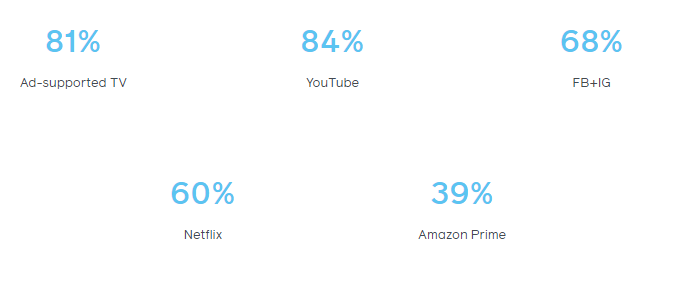 With an abundance of creators, formats and platforms to choose among, video viewers—especially younger ones—are often second screening and dipping in and out of platforms. According to a global study, Gen Z reported watching less traditional TV than older generations, suggesting that up to 2 out of 5 Gen Z video viewers may not be able to be reached using traditional TV ad buys.
Each platform attracts unique attention and interest. For example, audiences are more likely to turn to television for news and episodic content, to Instagram for beauty/style content and to Facebook for animal/pet content. In such a landscape, video advertising should be as diverse and context-oriented as users' viewing experiences.
This highlights the importance for CPG advertisers of reinforcing messaging everywhere and tailoring it to the specifics of the platform. With attention in so many places, consistently and repeatedly reaching video viewers across a diversity of screens, platforms and content types has become paramount.
The rise of relevance
In the past, CPG marketers would have to try to predetermine common interests across the largest segments of their target audiences and then advertise adjacent to TV programs that matched these. Today, online platforms enable advertisers to appear within brand-safe publisher content that is contextually relevant to each individual's interests.
Consumers have come to expect that video campaigns will have a strong bearing on their lives. Video viewers globally say that relevance is the most critical factor for completing a video ad in an in-stream environment, higher than production quality, content source, or length. For CPG advertisers, accounting for the rise of relevance by pairing the scale of online platforms with personalization is a double win: It enables the widespread delivery of messaging while also meeting specific audiences' needs.
Content as commerce
Whereas once CPG brands could only influence in-store behavior that would occur at a later time, with video advertising today, they can encourage audiences to take immediate actions such as adding items to their online carts. Through more immersive experiences and in-platform capabilities, marketers now have the opportunity to guide people directly from watching to shopping.
For CPG marketers, the intertwining of video content and commerce can be especially valuable when reaching audiences that have already shown affinity for brands and creators. For example, nearly half (49%) of online shoppers say they would buy products directly from live videos where brands, celebrities or influencers they follow are launching new products.

Multidimensional memories
A key benefit of online video is that it is available in a wide range of formats—that are also wide reaching—For example, on Facebook's platforms alone, formats such as Facebook Watch, IGTV, and Live offer longer form videos to build connection, while shorter formats such as Feed, Stories, and Reels can capture attention instantaneously to to deliver entertainment and can be delivered across many different experiences.
This gives CPG brands the opportunity to deliver richer and more diverse campaigns. With access to diverse video choices, advertisers are able to harness video to achieve multiple goals—from brand building to driving conversion. By doing so, they are able to create multidimensional memories: Through the variety of today's connected video ecosystem, marketers can ensure their brand comes to mind in more contexts and in a greater number of buying situations, whether in-store or in-stream.
How CPG brands are reimagining their relationship with video
With multiplicity of attention, relevance becoming paramount, content intertwining with commerce and campaigns enabling the creation of multidimensional memories, CPG marketers are adapting and rethinking their video strategies.
How exactly are they doing this? Here are three examples of how CPG brands have reimagined how they use video on our platforms:
Muscle Milk tapped the benefits of both shorter and longer immersive video on Facebook by pairing in-stream placements with Feed and Stories placements in a US campaign.
Schwip Schwap invested in short-form video at a "TV-like" scale on Facebook and Instagram in an EMEA campaign. They saw results that were on par with or outperformed television.
L'Oreal wanted to combine their roster of influencers and creators in Brazil with immersive storytelling, so they paired the two in placement-optimized brand ads in Feed and Stories.
Today's connected video ecosystem opens doors for CPG marketers
The evolution of the landscape is an opportunity for CPG brands. With online video, advertisers can capture the divided attention of today's audiences, deliver relevant messaging, create powerful associations and memories and spur action. Ultimately, by looking at online video as a full-fledged ecosystem and reimagining their strategies, CPG marketers can harness video as a powerful asset to achieve multiple business goals – from brand building, to driving sales, and everything in between.
What it means for marketers
Think of video as an ecosystem, not just a narrow digital format

With its reach and scale, online video has evolved into a mainstream ecosystem of its own. As such, it can now help marketers achieve a range of outcomes—including brand building—and shouldn't be viewed as simply a narrow or primarily efficiency-driven digital format.

Embrace the multiplicity

The "how" of video advertising is different from in the past. Video is now watched across a range of content creators, formats and platforms. As the three examples above demonstrate, CPG marketers can succeed by understanding the nuances of how attention, relevance and content are changing.

aso google play short description
mobile marketing success stories

Reimagine the relationship with video

The emergence of a connected ecosystem necessitates fresh approaches. By reimagining their relationship with video, CPG advertisers can unlock valuable opportunities.

Source:

google play keyword analysis
mobile marketing success stories